These are subscription boxes from International Vendors
Prices are in USD
Subscriptions automatically renew. Hence cancel anytime
Shipping is from Global locations. Deliveries to India available for all  boxes
We earn a commission if someone clicks the links on the page and shops at Cratejoy
Women Lifestyle Subscription Boxes
Women Clothing Subscription Boxes

Skivvie NIX - $20.00
Skivvie NIX is a women's underwear subscription delivering your bum 2 pairs of skivvies each month

Sock Panda - $14.00
Wild & Crazy - Fun, Colorful and Bright. Wild patterns, cool characters and whimsical motifs

Realsic - $11.95
Keep your feet fresh and fun with a new pair of premium combed cotton socks shipped to you every month

Get Basic - $24.99
Each month, you receive a cute top, classic bikini cut undies & pair matching of socks that are sustainably made
Pregnancy and Baby  Subscription Boxes

Birth with a Voice - $24.99
Organic/natural baby products for breastfeeding mommies with 4 products (full and travel size) for your new baby.
Beauty Subscription Boxes

Bath Blessing Box - $39.99
Each month you'll receive artisan, natural and essential oil-based bath and body products to transform your bath

Etoile Box - $41.99
Monthly delivery of unique lifestyle, beauty, and self-care custom curated just for you!❤️

Polkadots Box - $39.99
Beautifully and thoughtfully curated, each box comes with 5-7 full-sized and useful goods
Organic Beauty Subscription Boxes

TheraBox - Self Care - $34.99
Give the gift of self-care with a thoughtful subscription box to increase joy, relieve stress, and find a better you.

Goddess Provisions - $33.00
Monthly box with ith 5 to 7 full-size products like crystals, aromatherapy, natural beauty products & spiritual tools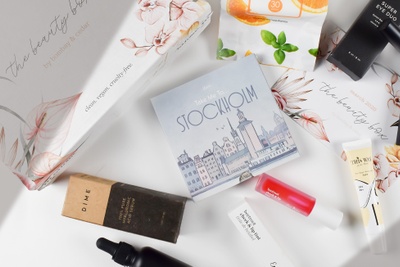 Bombay And Cedar - $46.95
A clean, non-toxic skincare and makeup subscription box featuring vegan and cruelty free full size beauty products
Jewelery Subscription Boxes

moderately YOU - $35.00
Complete your outfit with our jewelry & handbag subscription box.Get 3 pieces of jewelry gold/silver & a handbag

Mariamor Designs - $9.99
We create hand-stamped inspirational coin jewelry that we believe can make the world a better place
Periods Subscription Boxes

MyLadyBug - $27.00
A monthly period subscription service that delivers your monthly products just when you need it!